The Chess
Kings and
Queens of
Oshodi ♛♜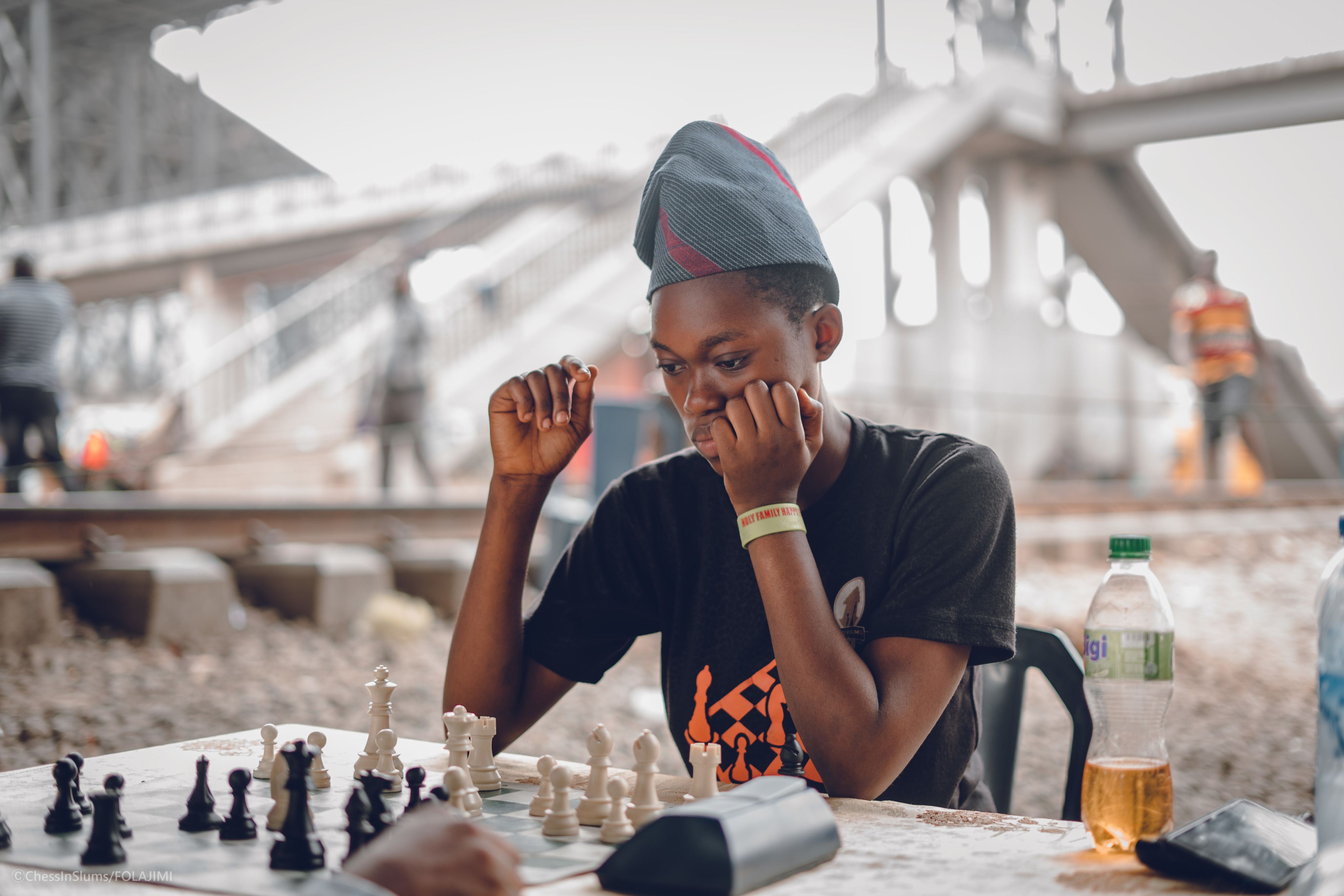 In March 2022, former Manchester United and France national team captain Patrice Evra visited Lagos, Nigeria and made an appearance at a pop up event under one of the major elevated roadways crisscrossing the megacity. There, he played chess with local kids involved in a homegrown chess education program called Chess in Slums Africa. Lagos-based visual storyteller Emmanuel Folajimi was there with his camera, but his stunning images also reveal so much more.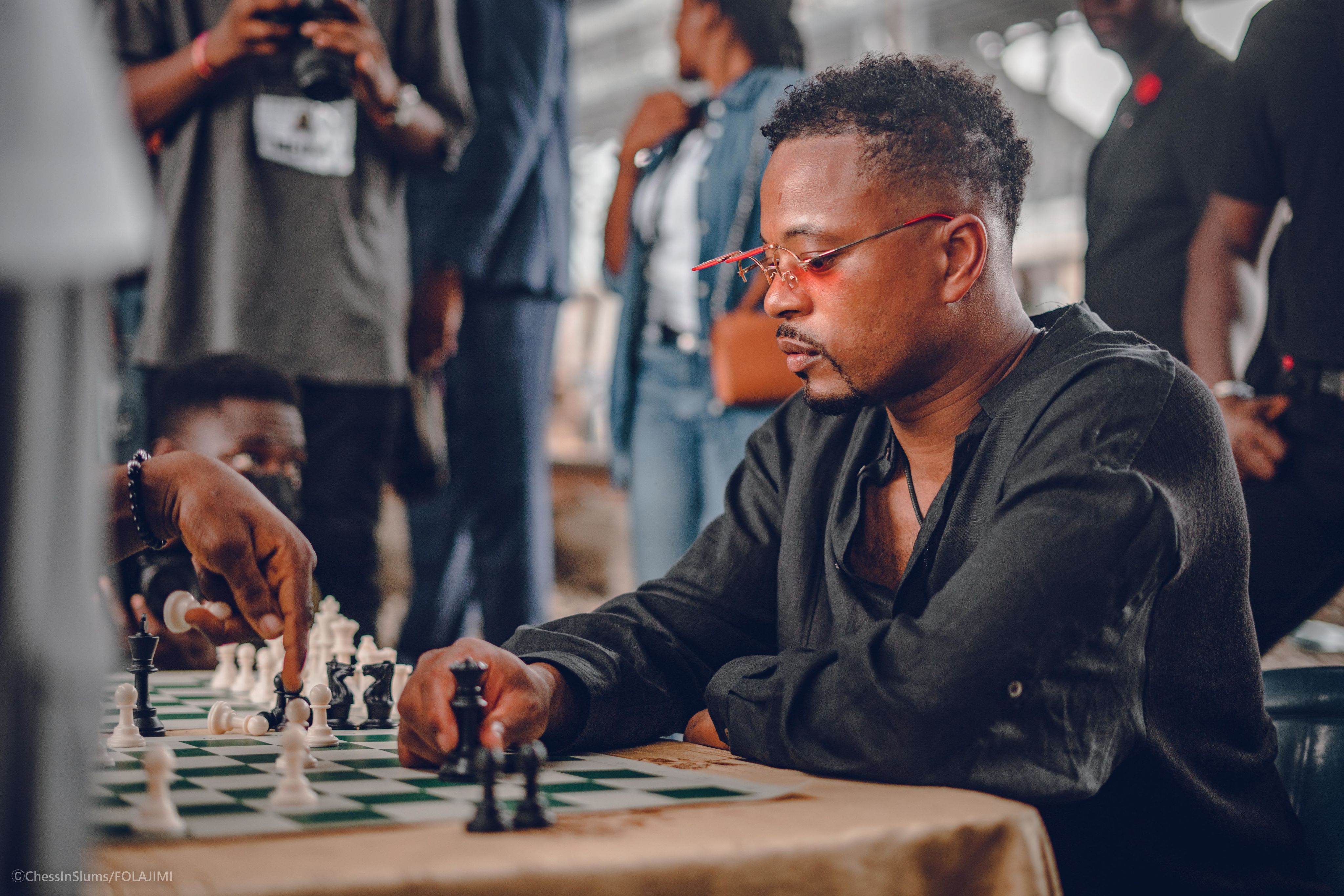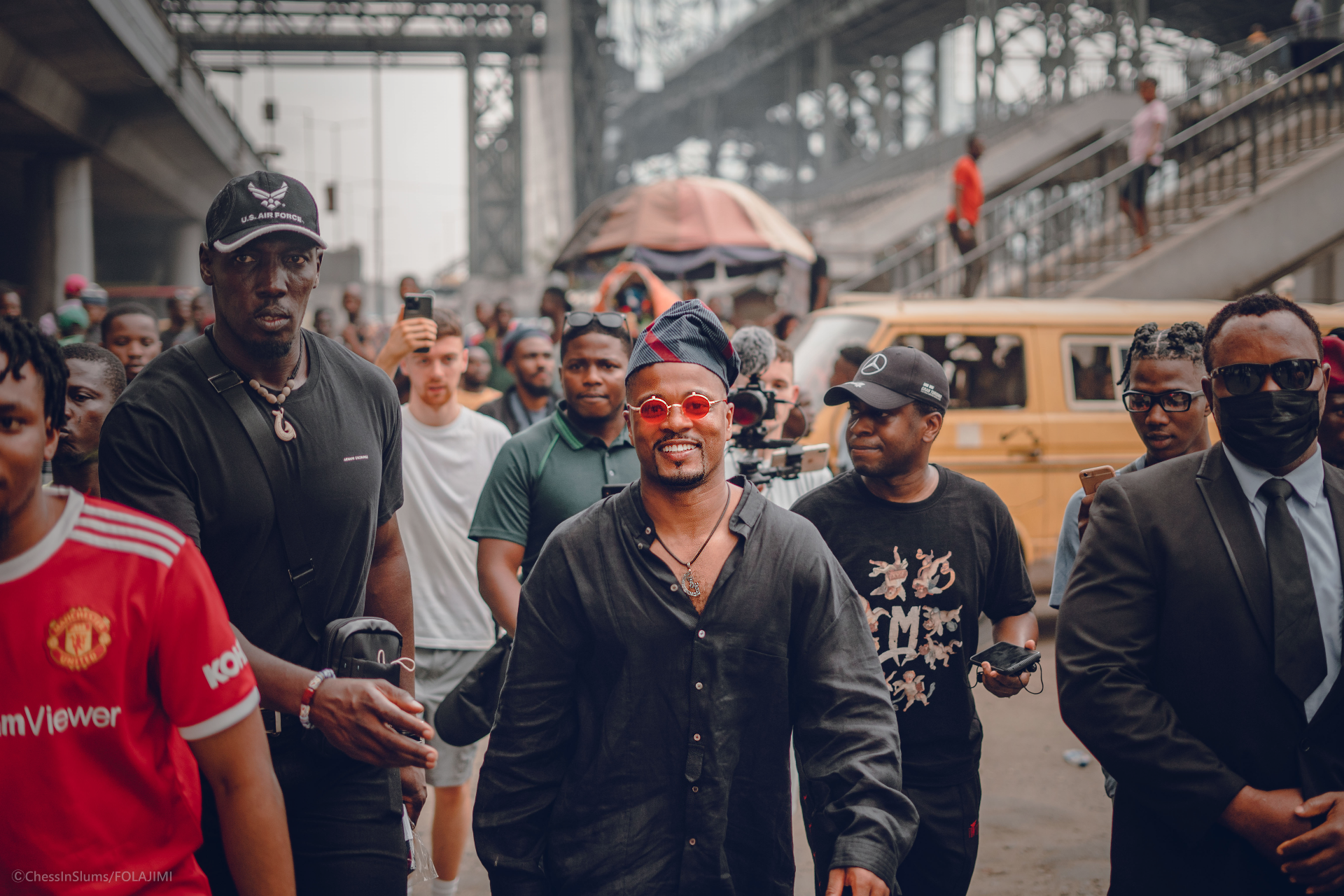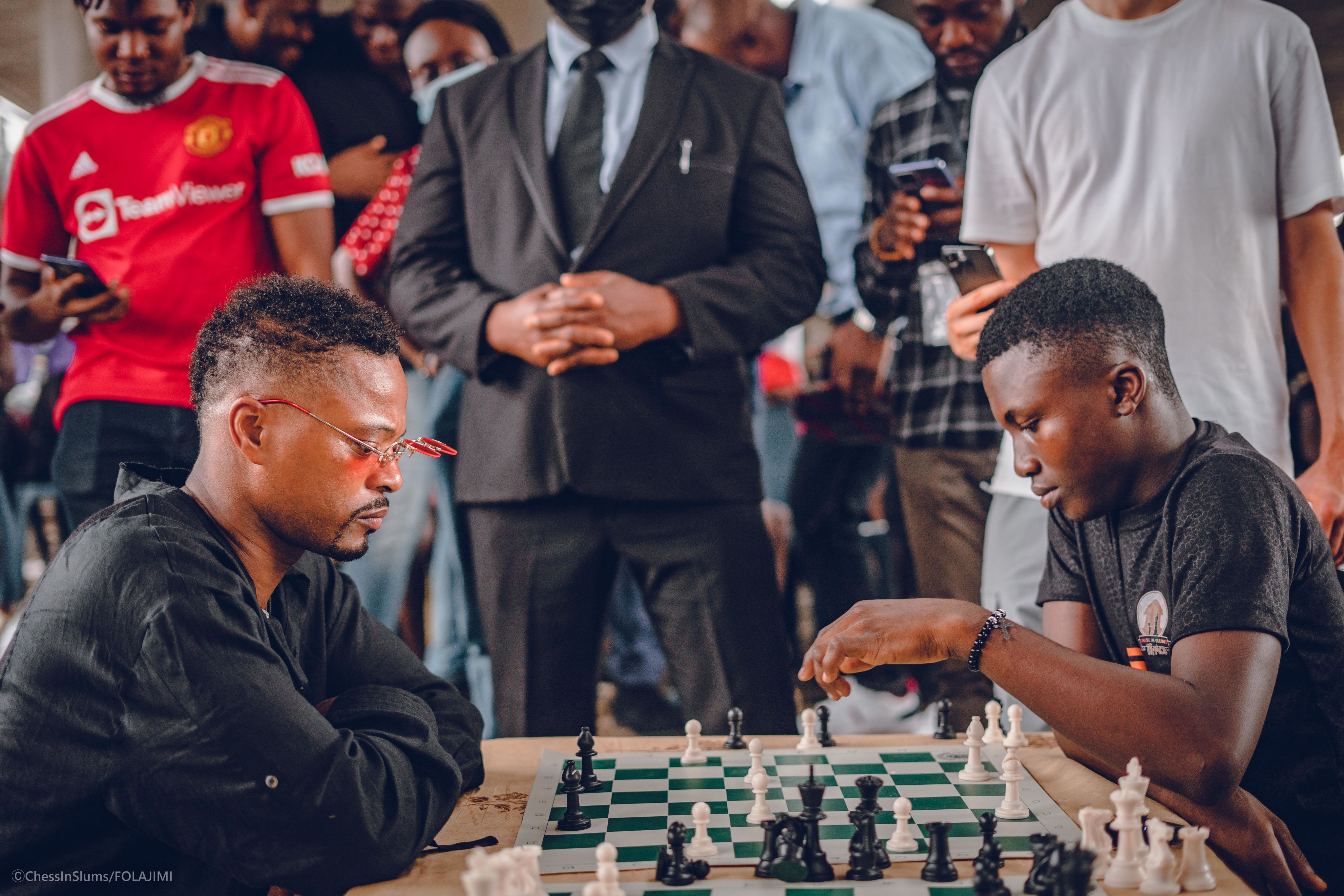 Item 1 of 4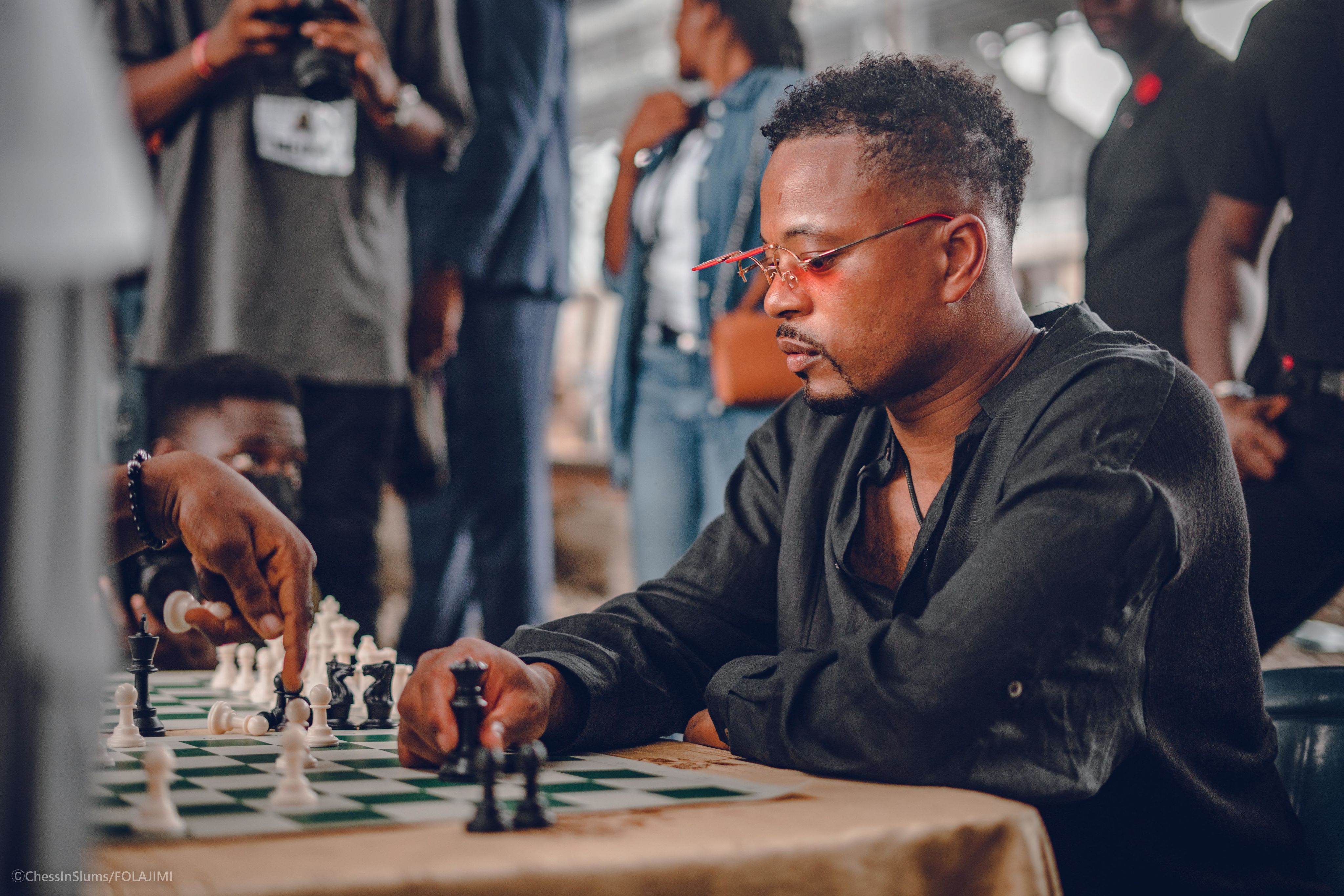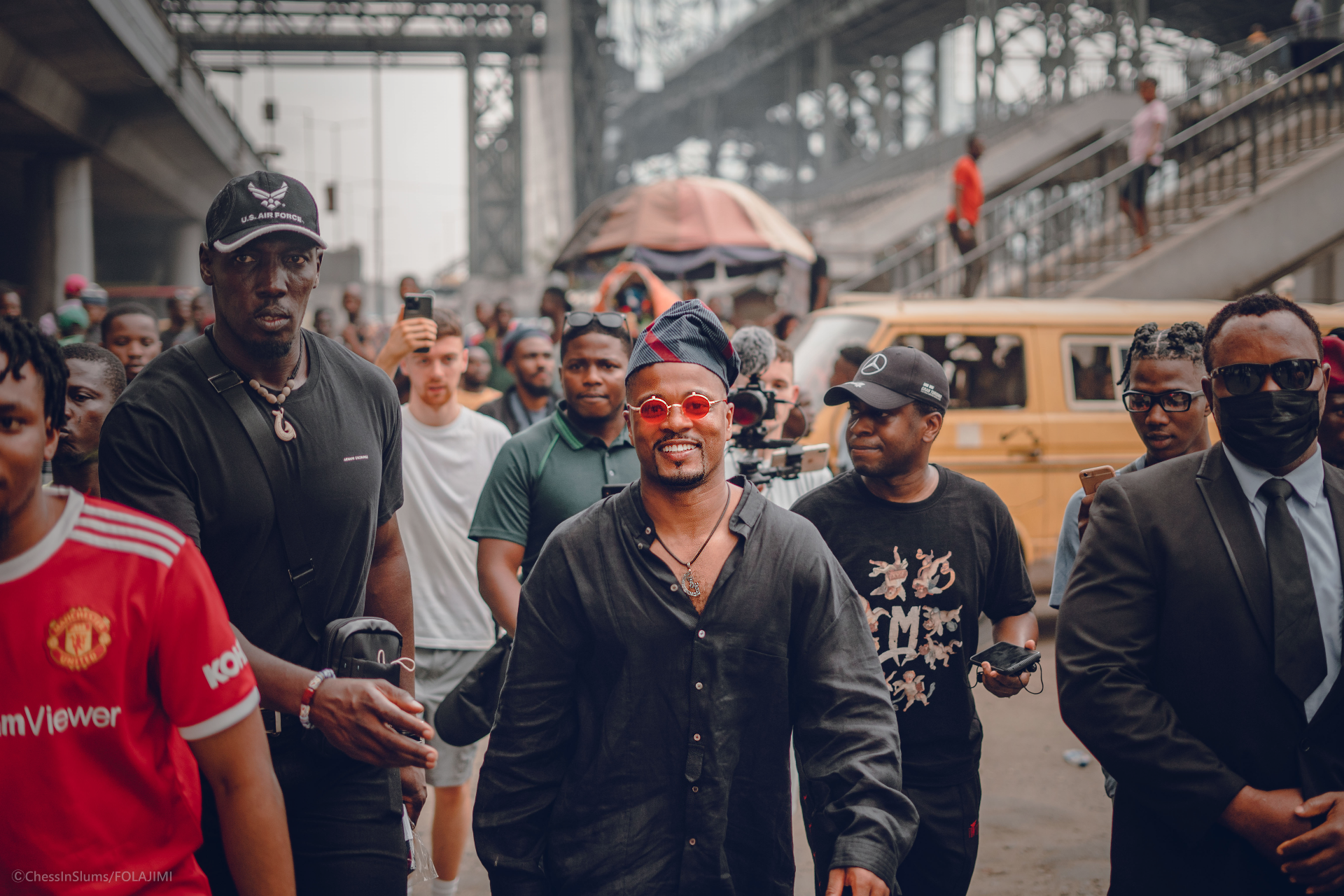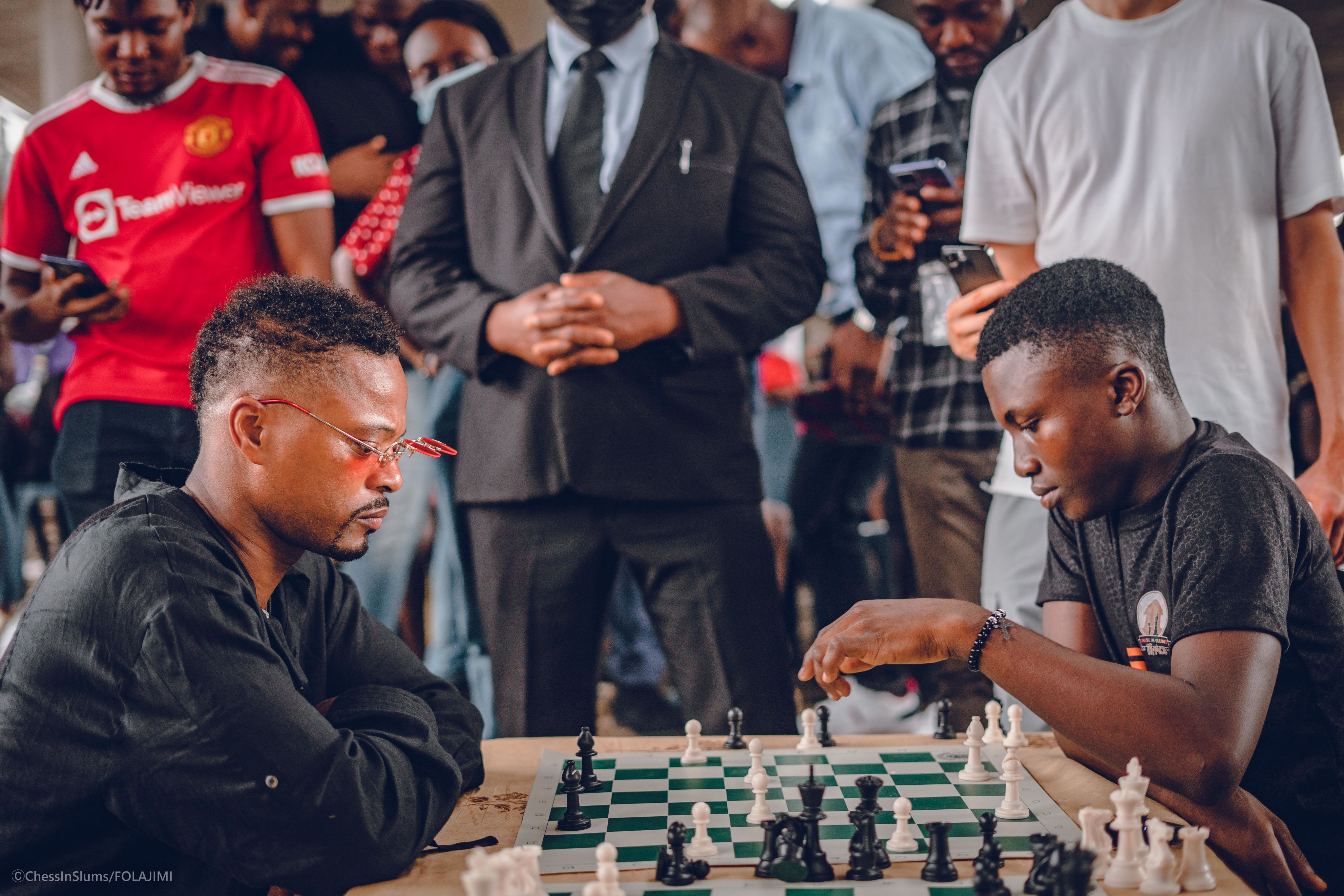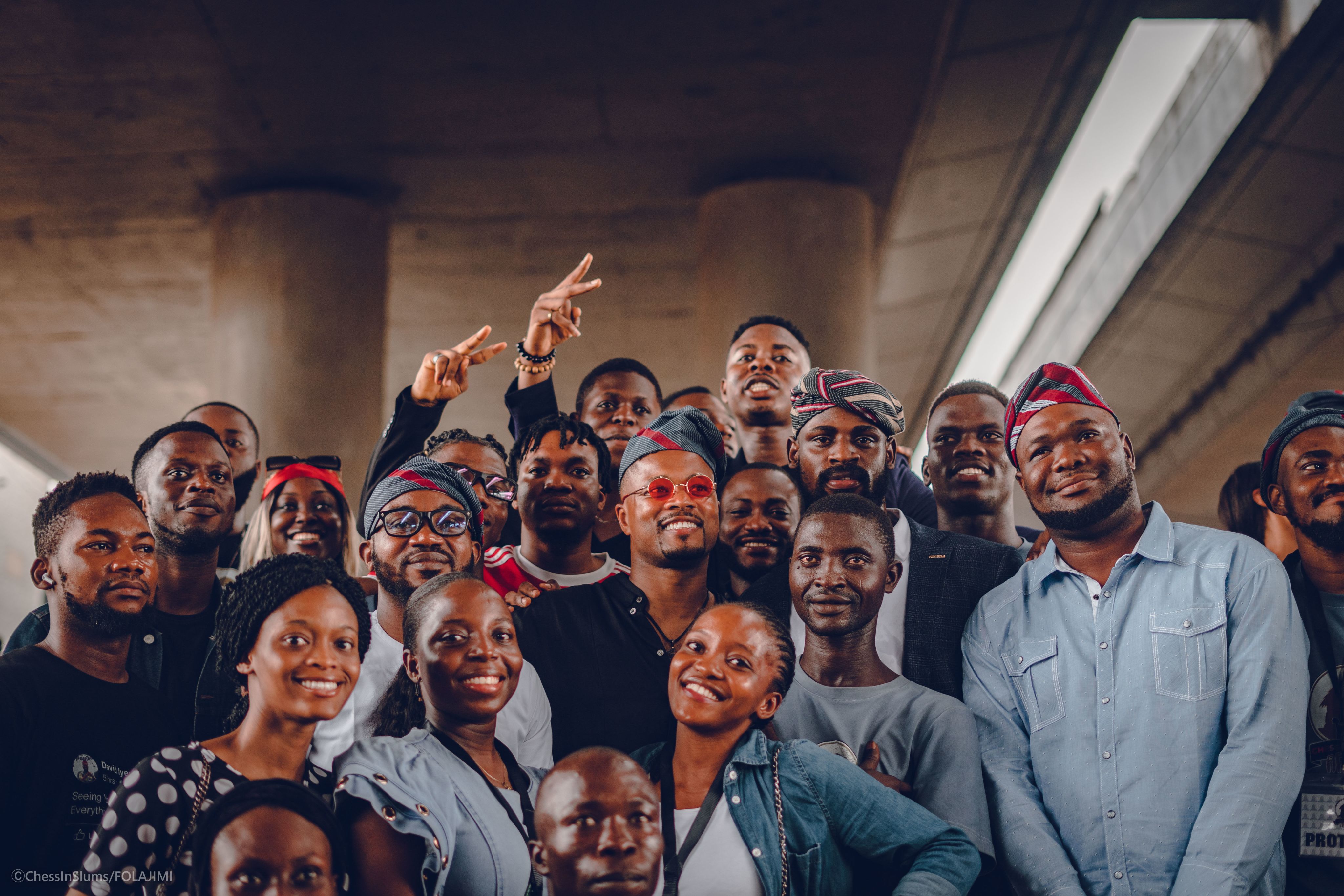 Chess in Slums is the brainchild of Babatunde Onakoya, a Nigerian chess master and coach who discovered the board at age 10.
Babatunde's experience in Majidun, a community in the city of Ikorodu, northeast of Lagos across the Lagos lagoon where he partially grew up, provided the inspiration for the initiative.
In 2018, as he followed one of his friends there, he met street thugs commonly called agberos or "area boys" who were smoking while kids—many out of school—were running around.
Babatunde realized that the kids were trapped in the same cycle as the adults and thought chess could be a way to break that cycle. "When I had the idea to take chess to slums, I just told all my friends about it and they came with me and supported," said Babatunde. "A lot of them didn't play at the time. I taught them how to play and it just became our journey every weekend."
The program kicked off in Majidun. Then, in July 2021, Babatunde's car ran out of fuel on the Oshodi bridge, one of the major transportation interchanges in Lagos, as he drove home. He was scared as the underbridge is associated with crime, and is home to street kids, petty traders, thugs and other people struggling to survive. However, to his surprise, the street kids who slept under the bridge approached his car and offered to help. He became committed to them ever since.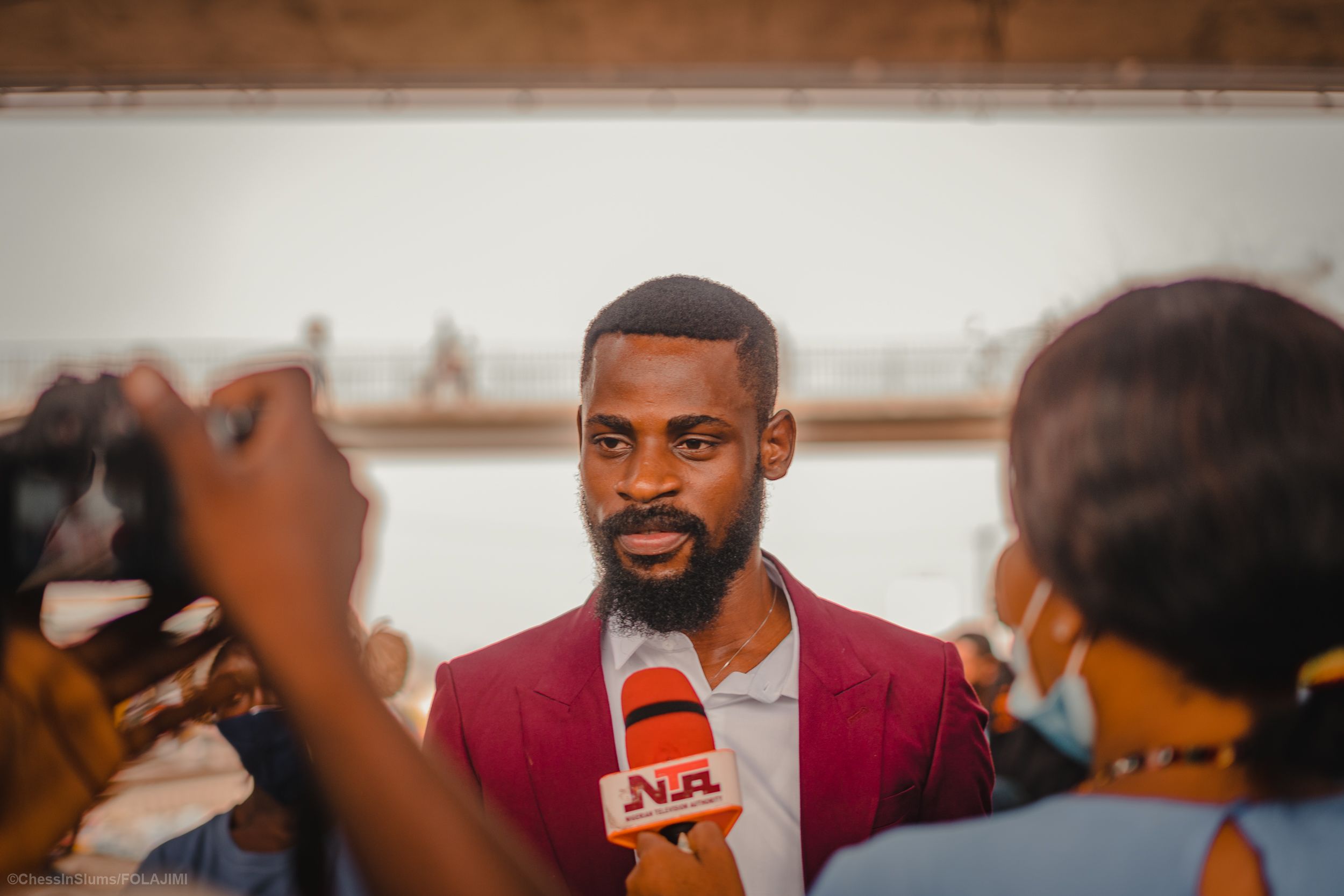 Oshodi is one of the busiest places in Lagos.
It is home to the biggest bus terminal in
West Africa, the Oshodi Transport Interchange.
The daily traffic is over
200,000 passengers and
1 million pedestrians.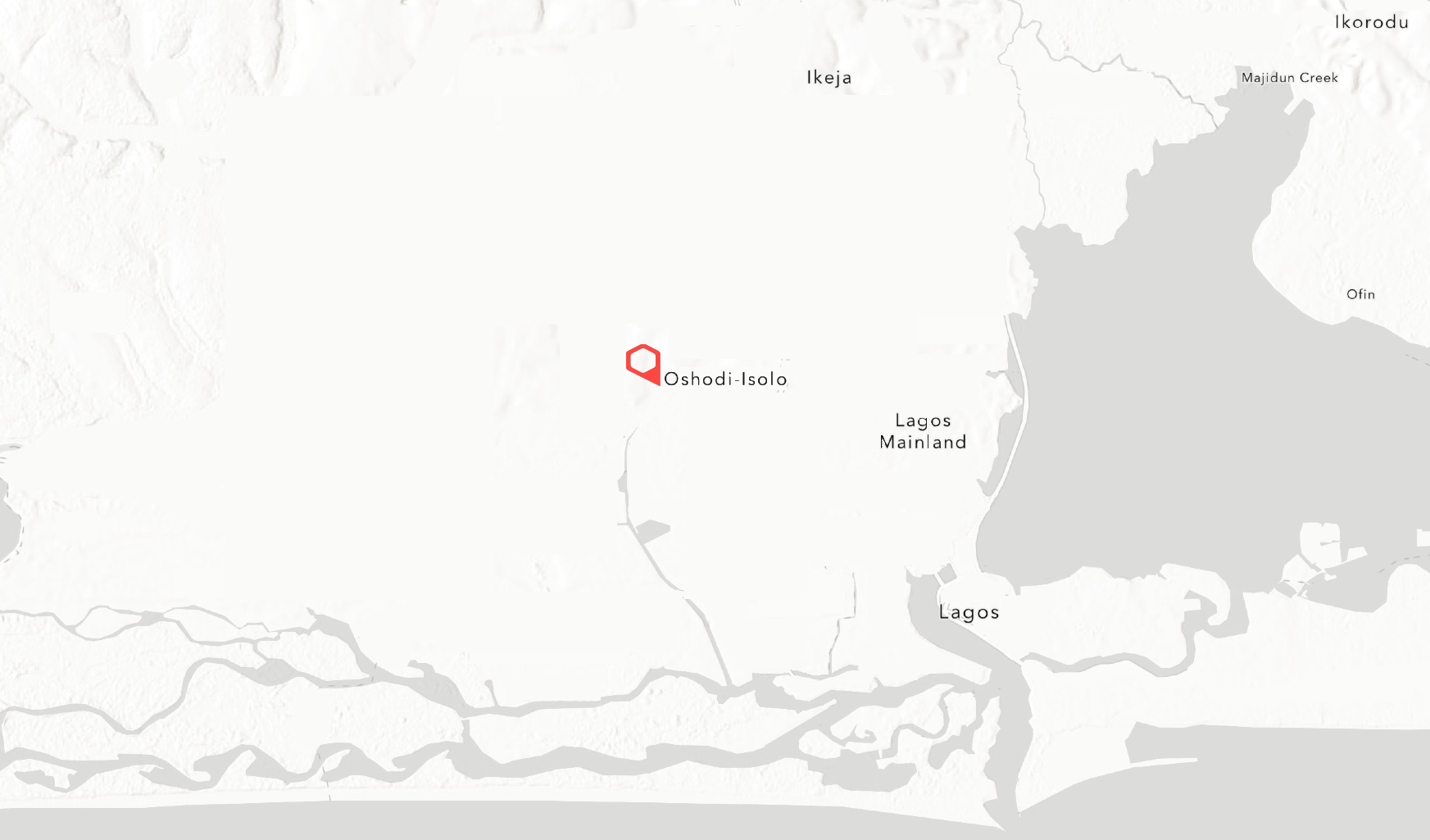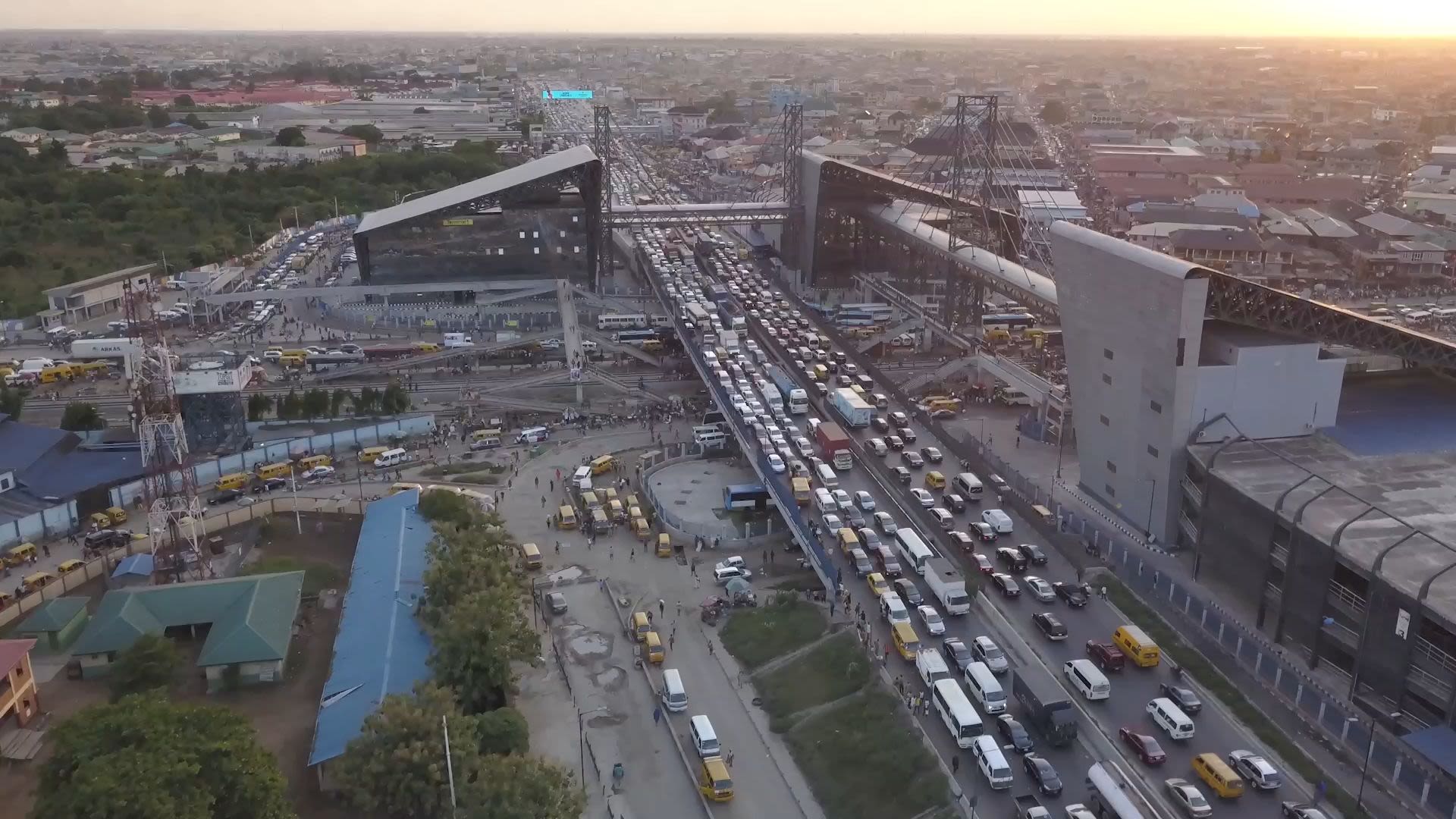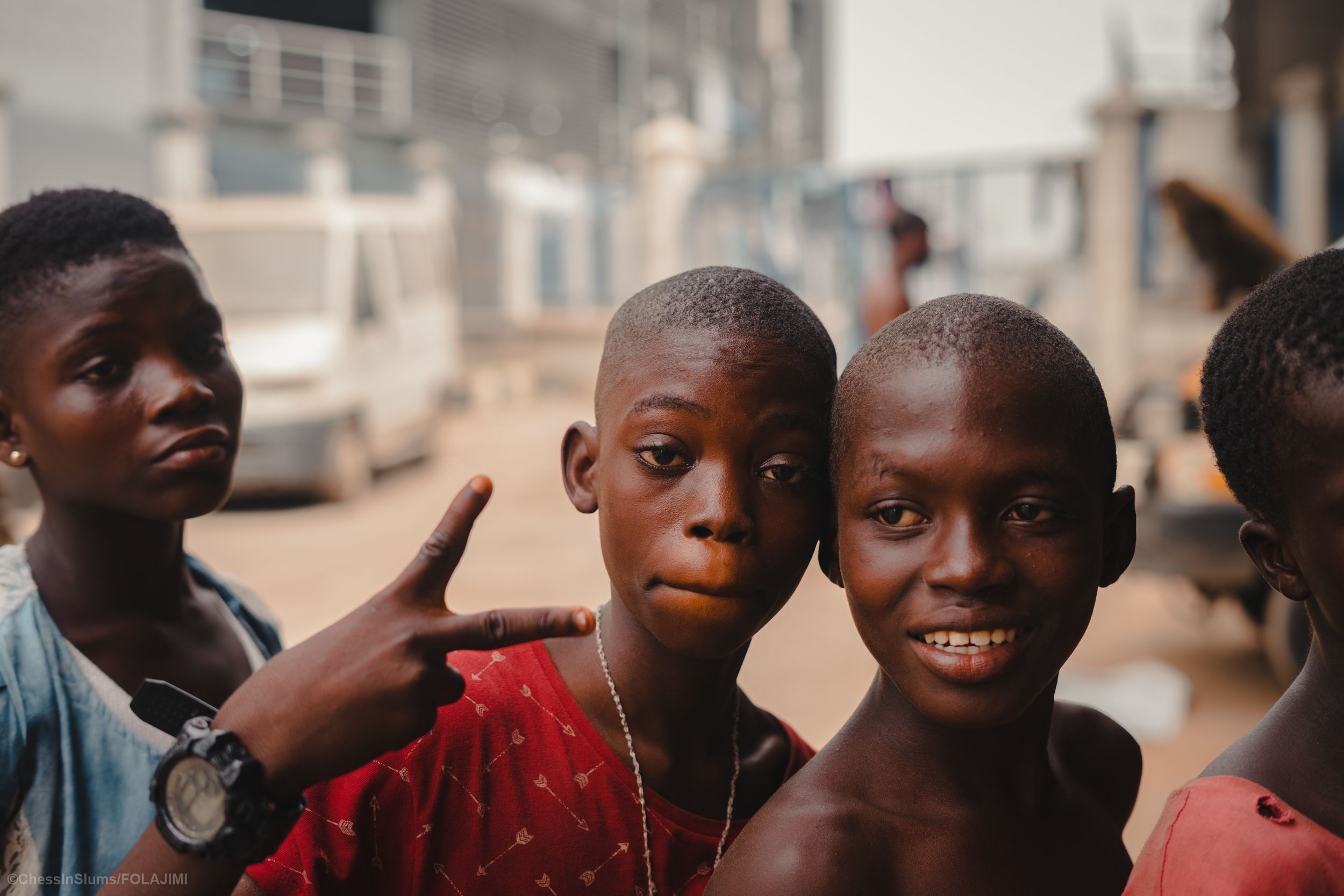 However, taking chess to the street kids of Oshodi presented unprecedented challenges for the organization.
"These kids don't have a home. The only place they call home is right there under the bridge. And that changes the entire dynamics of our interventions."
For example, the project had been accustomed to talking to parents or legal guardians to get their permission to work with the children. But the Oshodi underbridge kids had no support system. "It was hard because there was already dysfunction: homelessness, and that is not something we deal with as an organization, it's not what we were prepared for, but then everything turned out beautiful."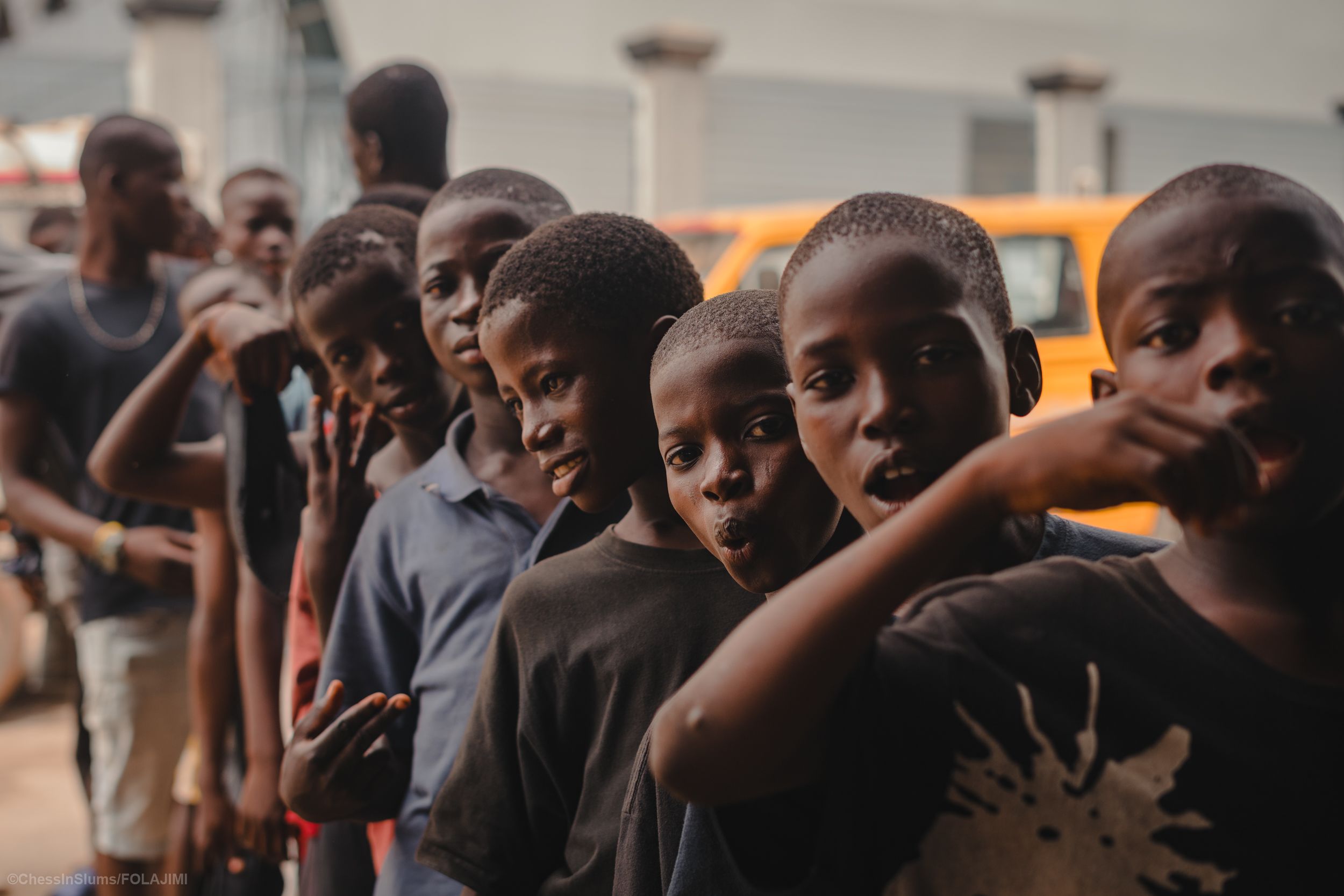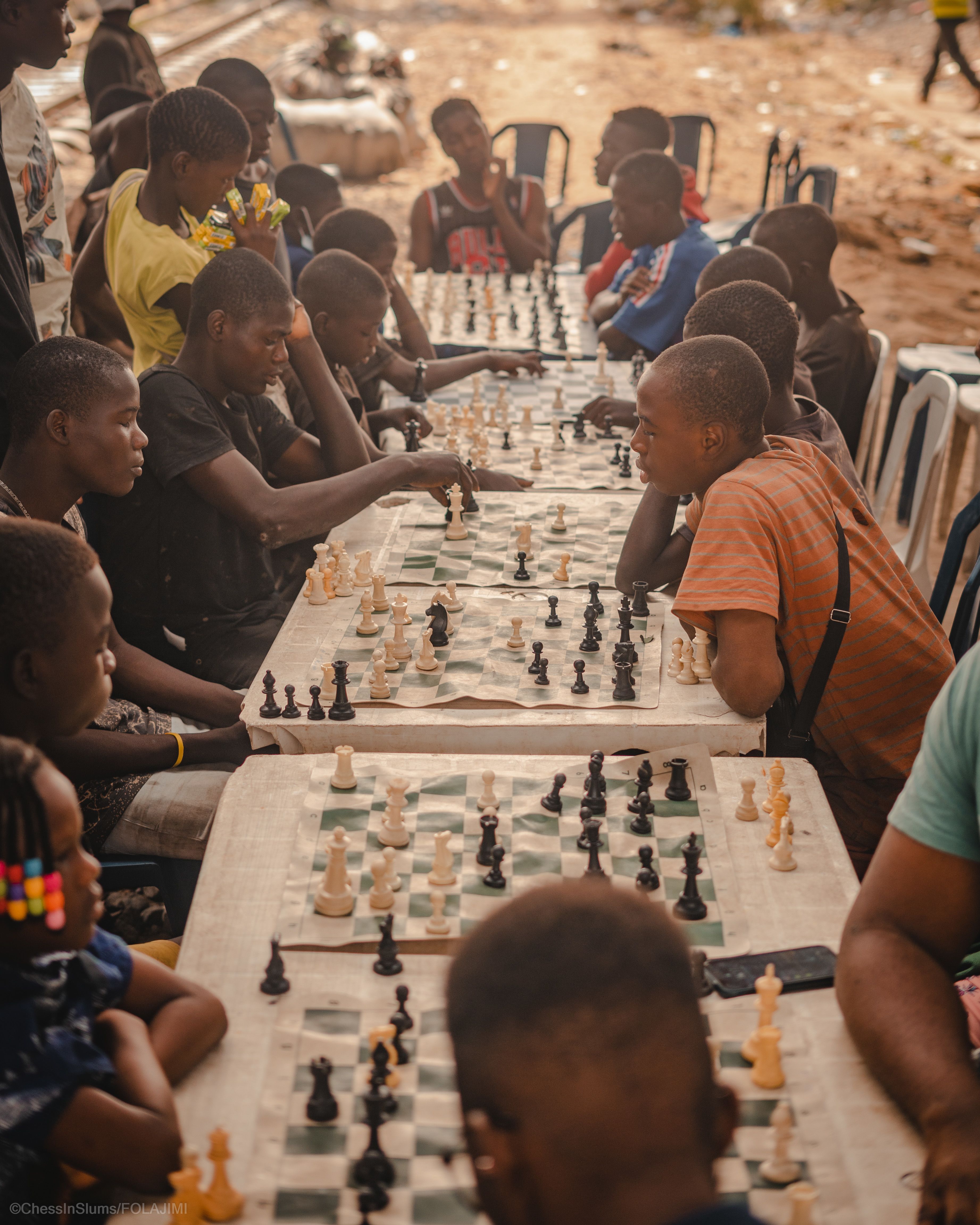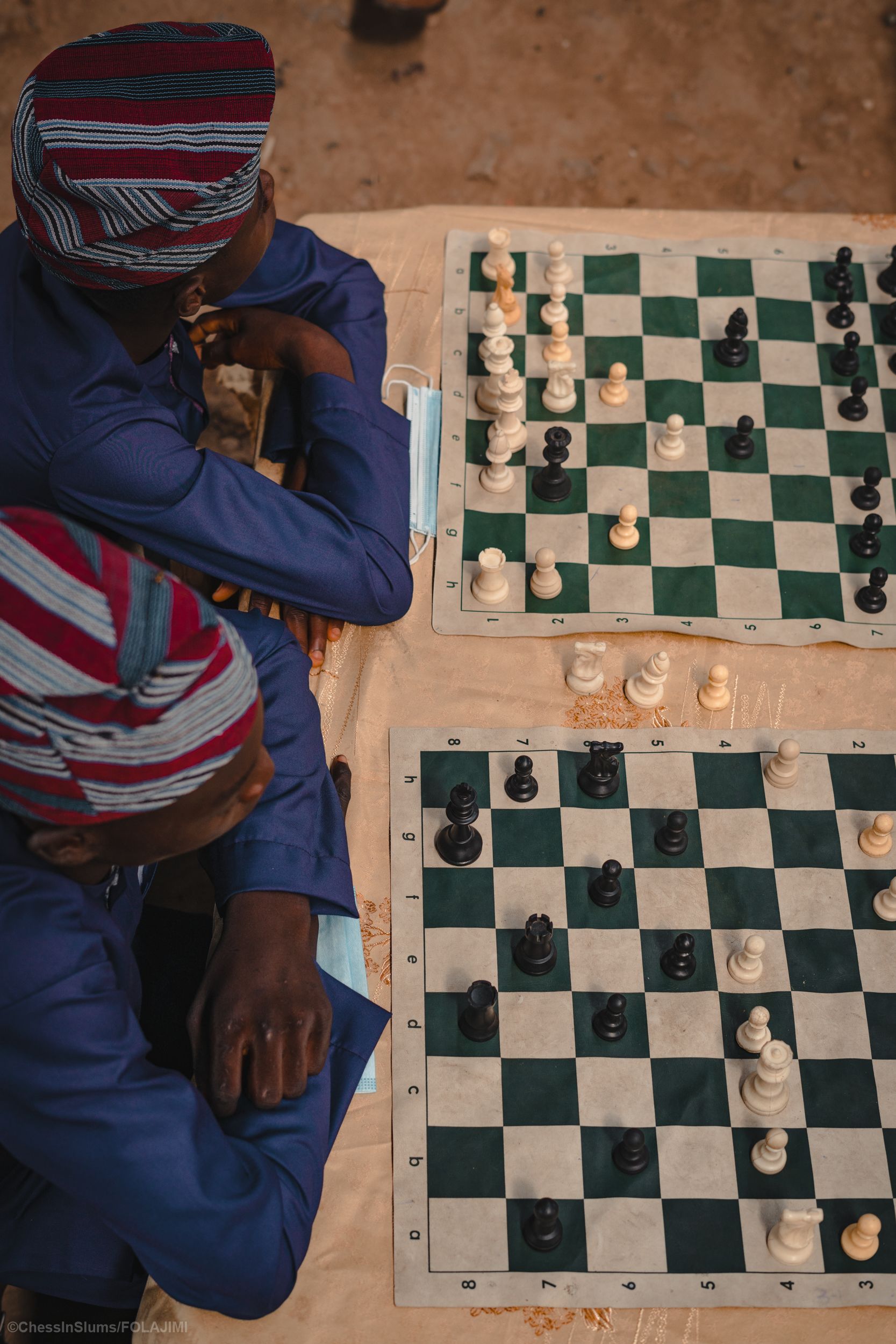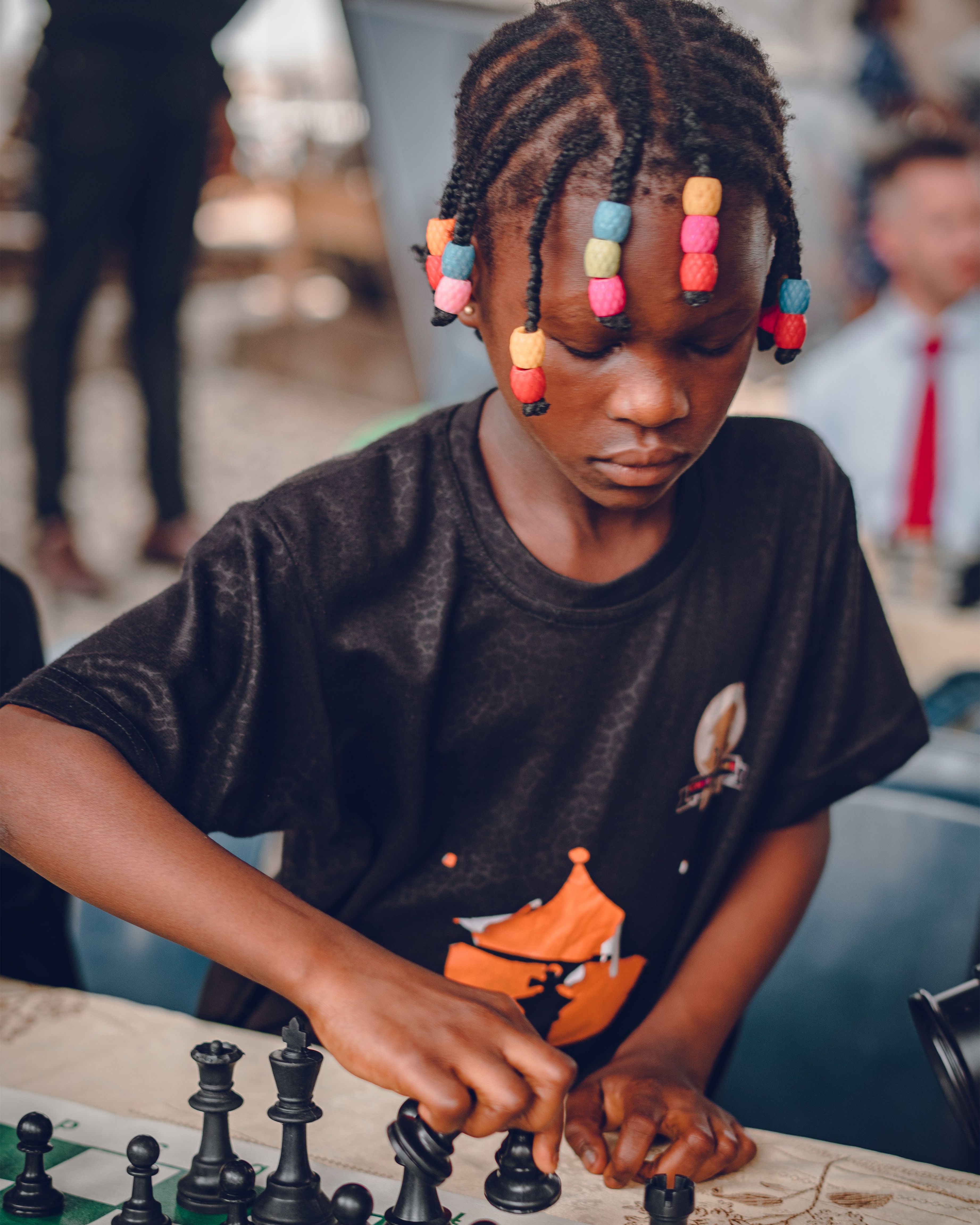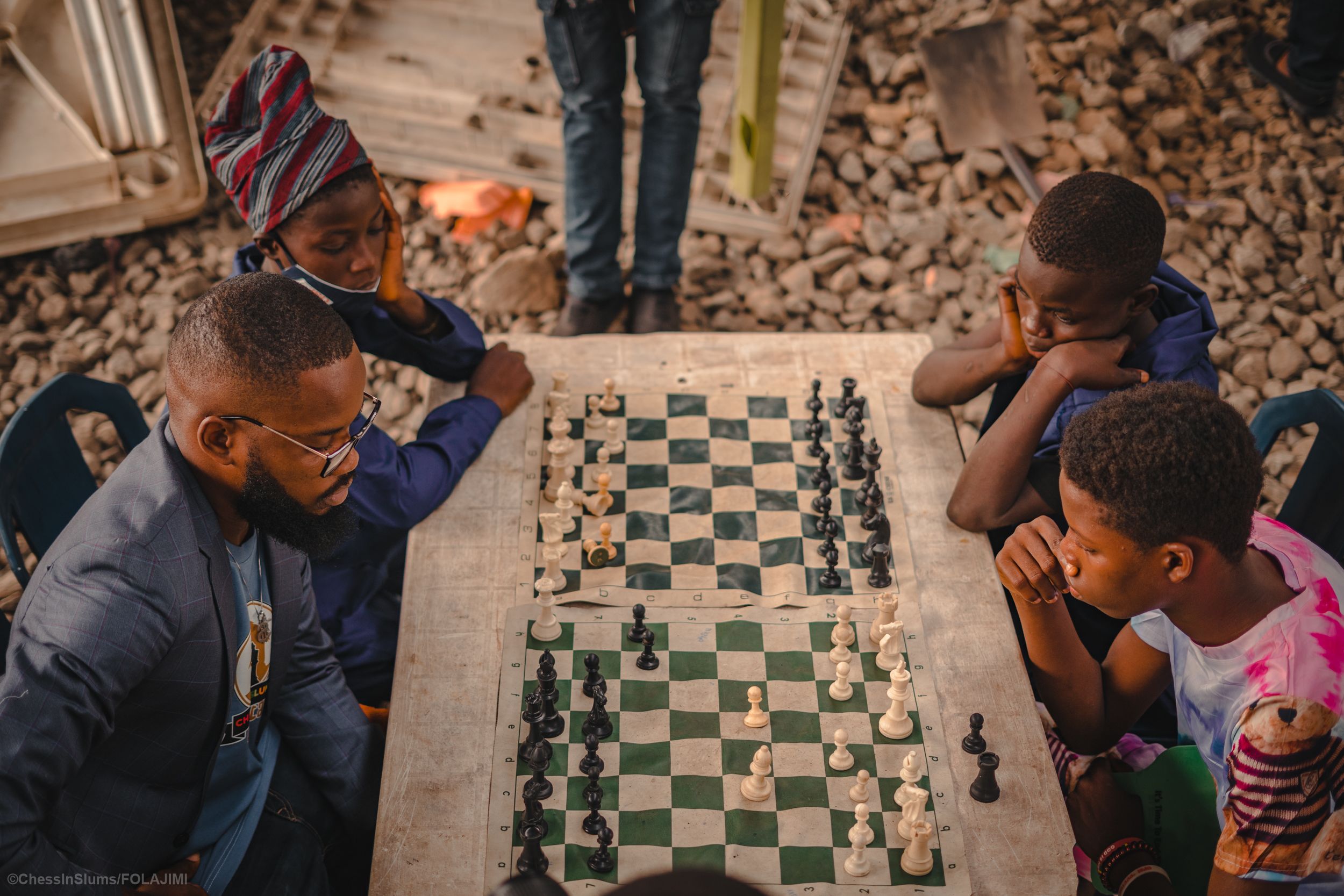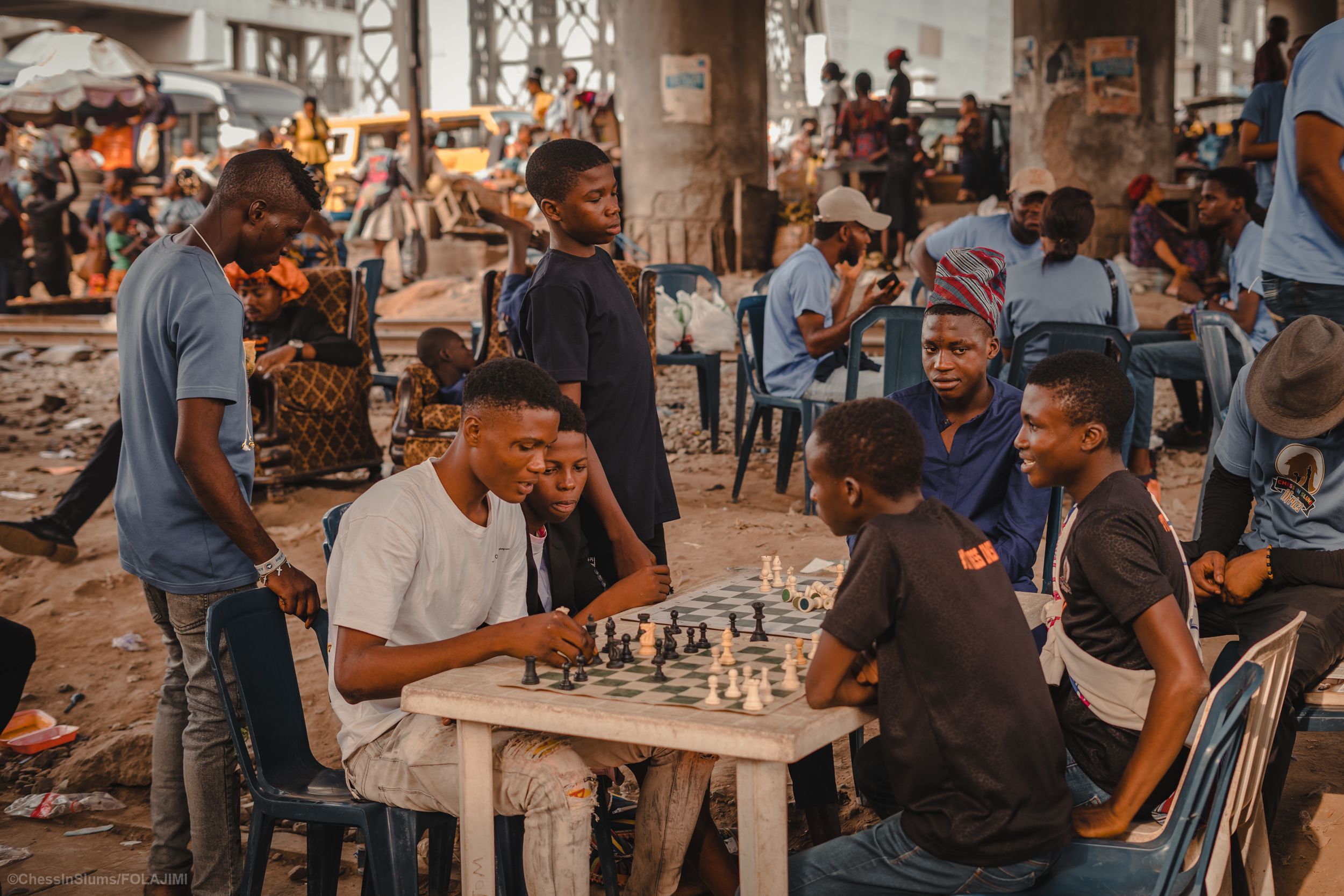 FAWAZ ♛
Adeoye Fawaz was 18 years old at the time Chess In Slums came to Oshodi. One of five children, his dream was to become a musician and a comedian. However, his parents separated when he was a child. He stayed with his mother, who remarried and moved from Ibadan to Lagos.
When she died when he was 16, he became estranged with his family and ran away from his aunt's house.
He also stopped going to school. He survived by working as a danfo (public bus) driver and slept under the Oshodi bridge.
Fawaz emerged as the overall winner in both chess and mental mathematics competition.
It's painful to imagine how his life would have been if he had had proper guidance, if he had gone to school.
Notwithstanding, in the absence of his biological family, he has been adopted by Babatunde.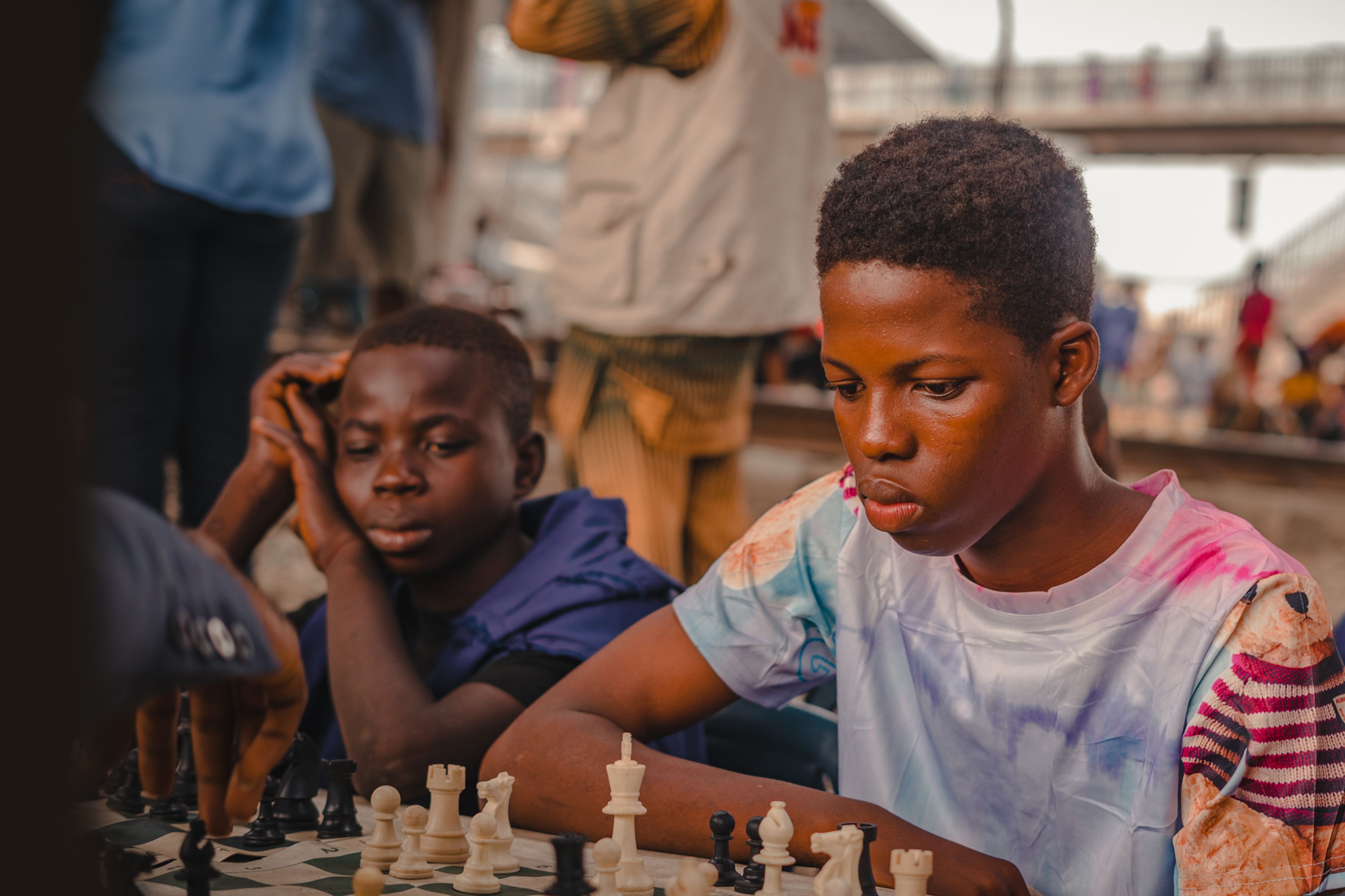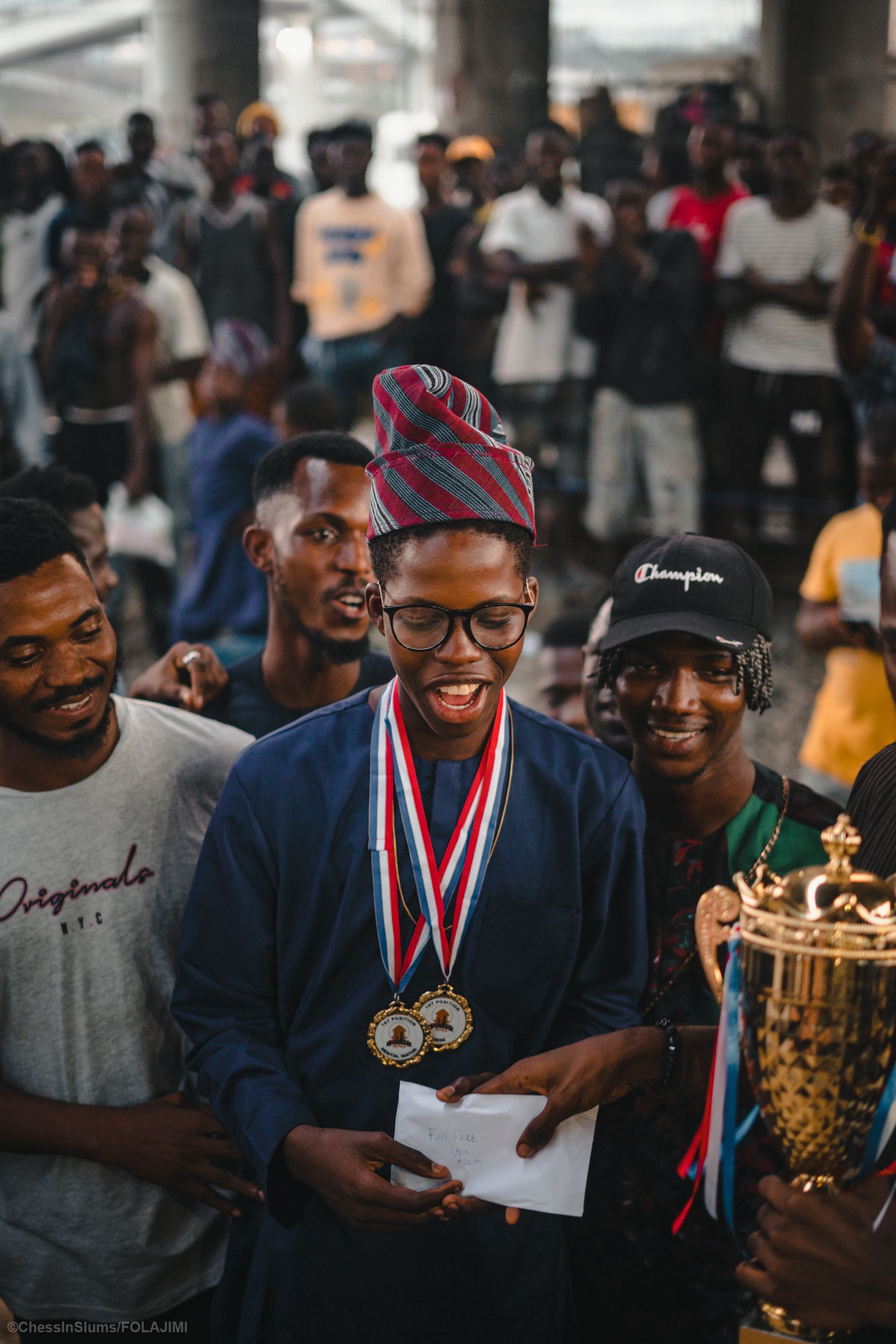 DAYO ♜
When Chess in Slums began working in Oshodi, Dayo, one of the local "area boys" volunteered to provide security. Dayo left his hustle as a danfo driver and diligently committed himself to the project. He was quick to pacify any violent outbursts and he made sure everyone felt safe the entire time.
In early 2022 however, Dayo lost his danfo job because he was volunteering with the Oshodi underbridge chess project. When this happened, Chess in Slums bought Dayo his own danfo, allowing him to start his own business. He has been successful and is already saving up to buy another danfo. After Dayo started his transport business, the other area boys who worked with the organization decided to part ways with their past lives and pursue their own businesses.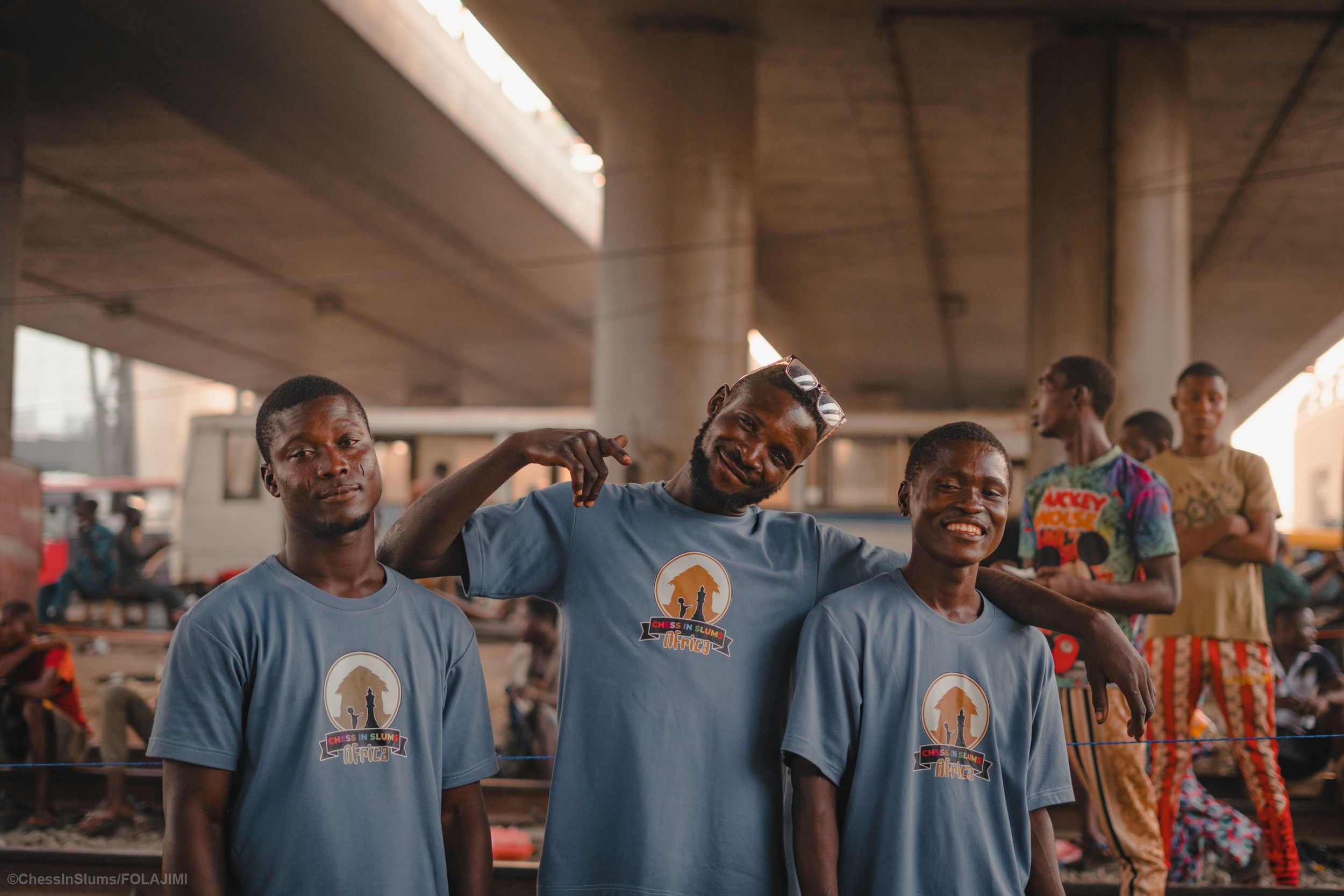 Babatunde grew up in Isale Odo, a community in the city of Ikorodu, which is northeast of Lagos along the Lagos lagoon. His father owned and operated a danfo, Lagos' iconic yellow minibus taxi, and his mother earned money by hawking water, fruits, clothes and other items. They worked very hard but struggled to provide for Babatunde and his brother. "We had to share a toilet and a kitchen with 20 other people. I always thought that was normal. We didn't have a borehole so we fetched water from the well. So, this was our reality growing up."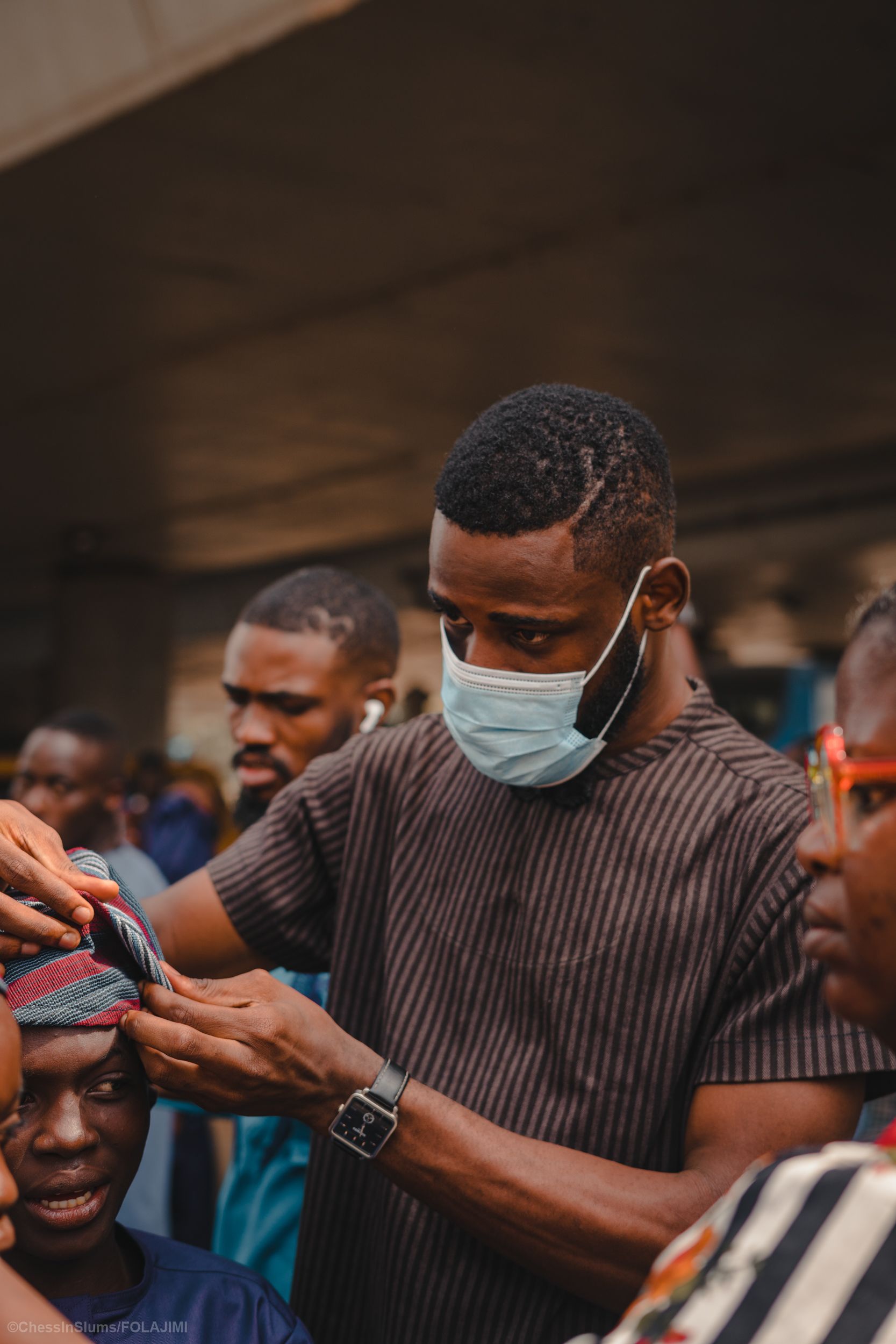 Although poor and uneducated, Babatunde's parents prioritized quality education for their children.
They refused to send their children to public schools which are notorious for poor standards, and worked really hard to send them to private school. But this meant that they could not always afford school fees for both of their children.
"I had to drop out of school for two years because my parents couldn't afford to pay my tuition," said Babatunde, explaining that he could not start secondary school because his younger brother was still in primary school.
It was at this time that he discovered chess.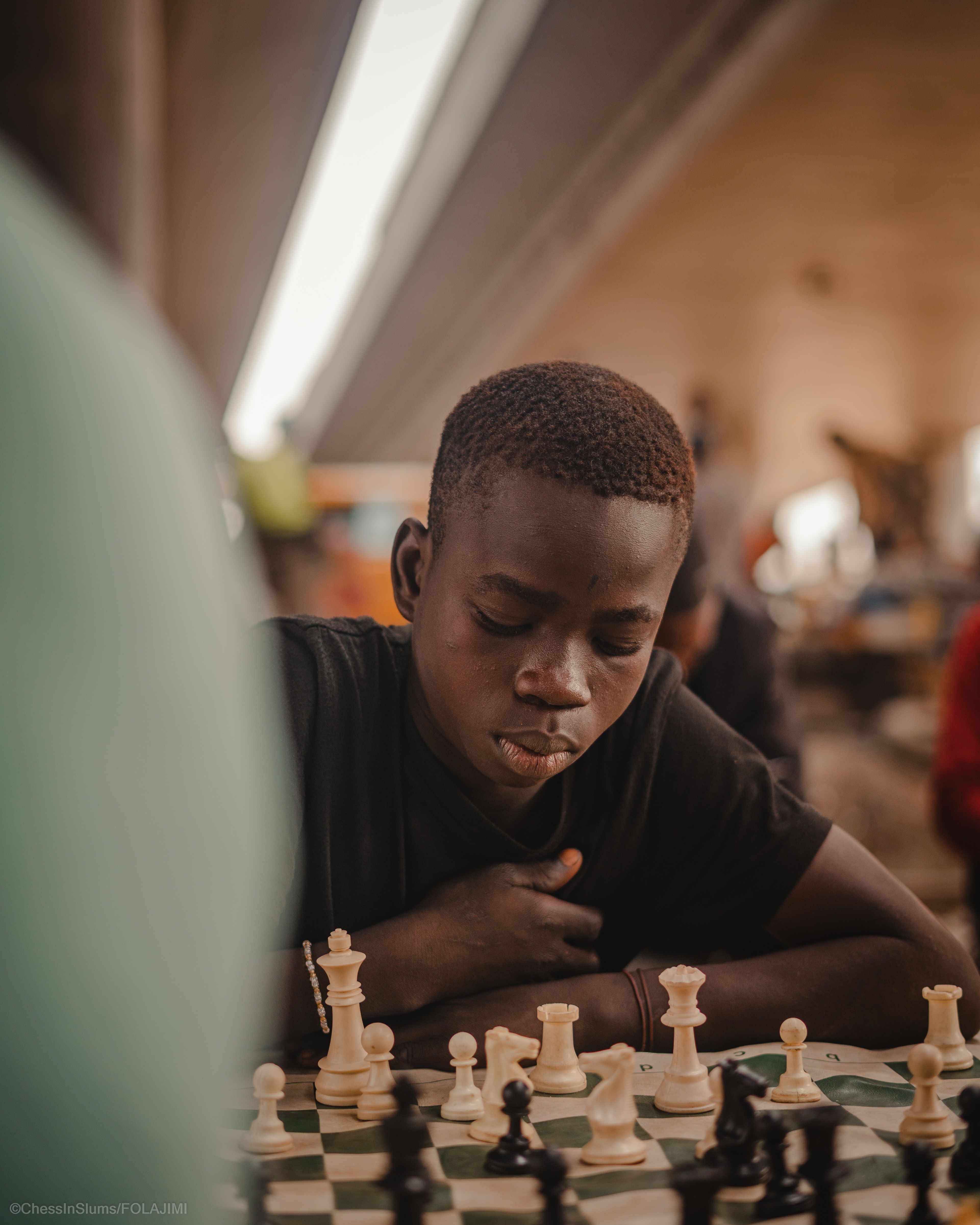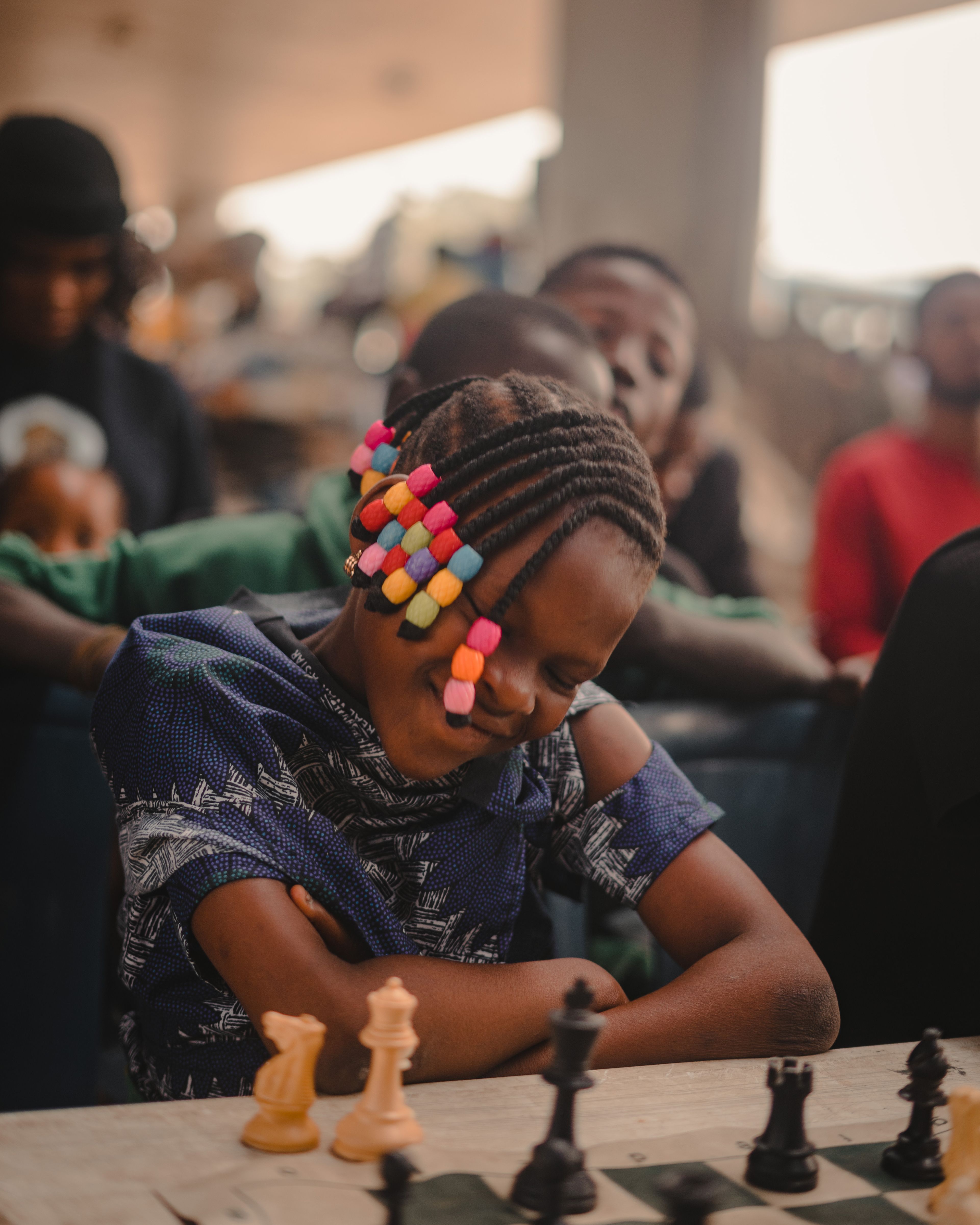 Impact ♟️
In three years, Chess in Slums has impacted the lives of 300 children in three of Lagos' slums: Majidun, Oshodi and Makoko.
The organization has secured scholarships for 30 children to go back to secondary school or learn technical skills such as coding. "I believe strongly in the initiative and what it stands for, that was why I volunteered to document these kids, to help them document their story," said Emmanuel, the photographer.
The Patrice Evra visit came as a surprise but was a massive boost. "They heard about our project, they were coming to Nigeria and asked if they could come to see our kids," said Babatunde.
Chess In Slums is looking at the future with very ambitious dreams. "We want to give the gift of chess to a million children across Africa, said Babatunde."
"If you give a child the gift of chess, you are not just giving them a board game, you are giving them a lifelong gift of critical thinking, a life long gift of problem solving, and these are skills that are relevant to the future of work and this is what I want for every child in Africa."
Babatunde believes that such skills are critical for future generations to challenge the status quo and lead Africa into prosperity.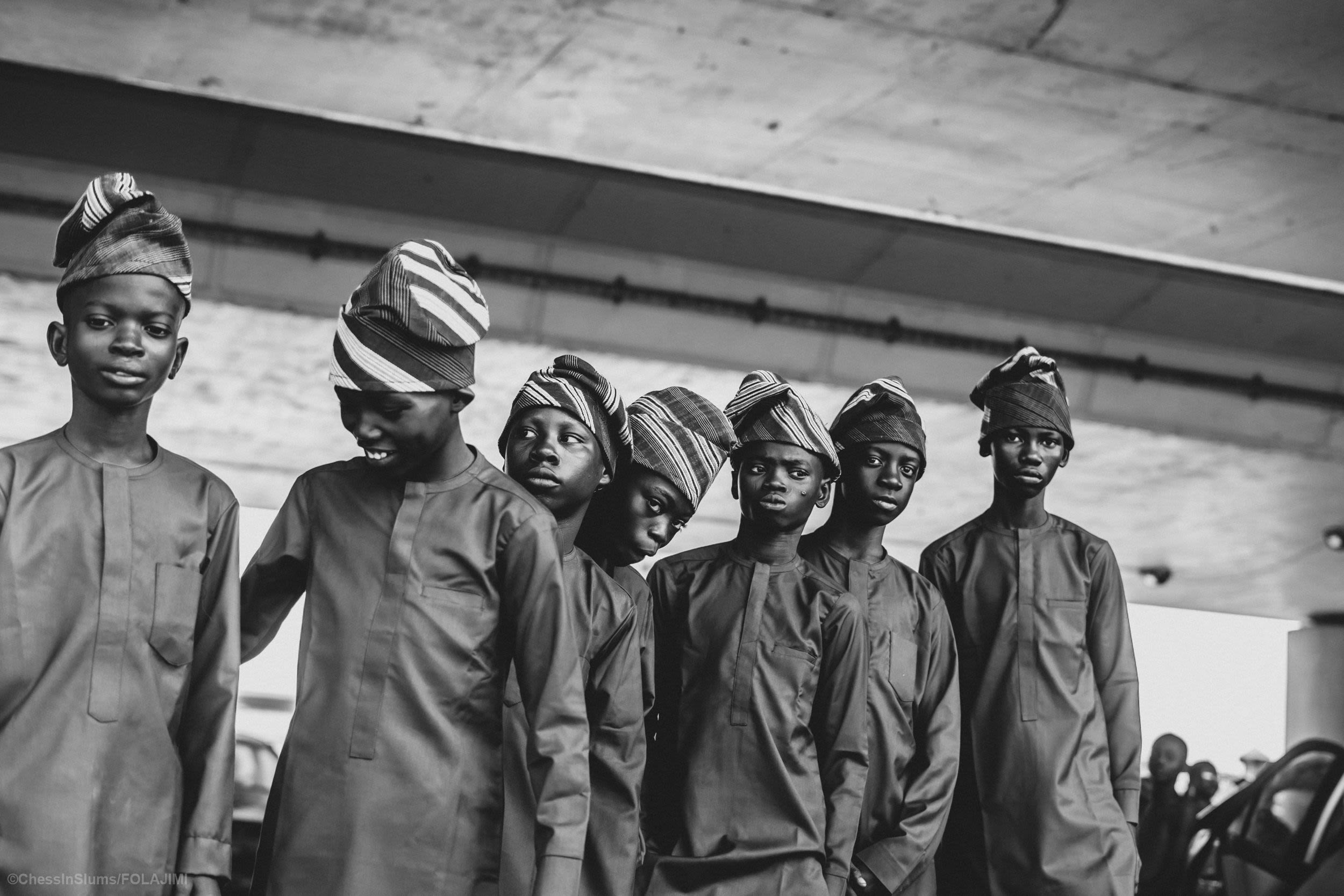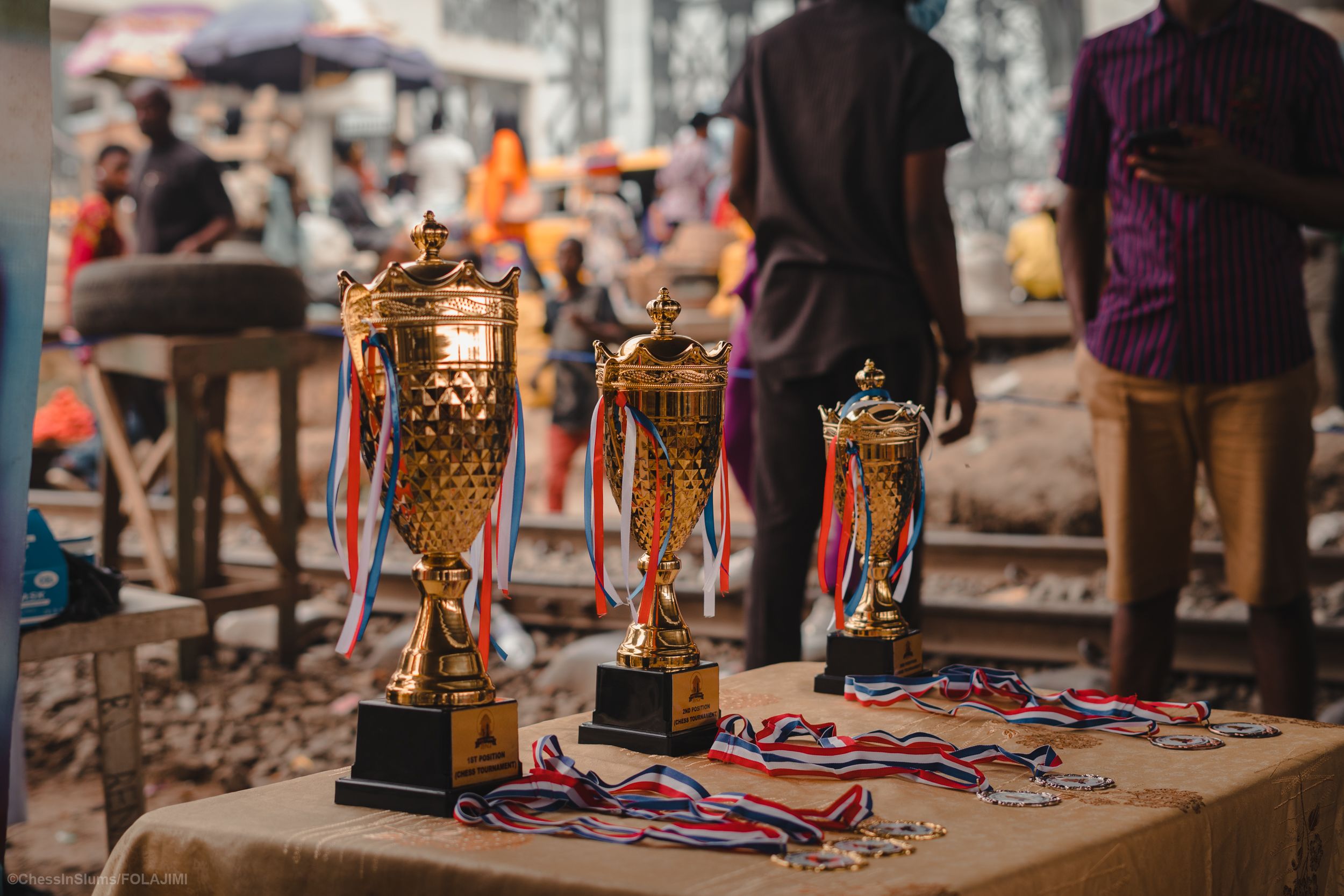 Photography: Emmanuel Folajimi
Drone videography: Ludovic Michaeli
Videography: Sol Philms
Text: Mohamed Keita with contributions from Emmanuel Folajimi
Design: Exaucé Yanga, Praise Lamina
Commissioned & Edited by Mohamed Keita